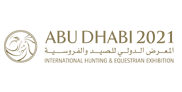 ADIHEX ABU DHABI
27 September - 03 October 2021
Exhibition Name: International Hunting& Equestrian Exhibition
Exhibition Date: 27 September - 03 October 2021
City - Country: Abu Dhabi - U.A.E.
Venue: Abu Dhabi National Exhibition Center (ADNEC)
Organizer: Emirates Falconers' Club
Edition: 17
Web Site: http://www.adihex.com
About Exhibition
Last Year, the 16th Abu Dhabi International Hunting and Equestrian Exhibition (ADIHEX), organized by Emirates Falconers Club, brought together more than 650 exhibitors from over the world with over 100,000 visitors. More than 1000 members of the press gathered on the platform, where 40 different countries are represented in an area of 40,000 square meters.

ADIHEX exhibition, which will be held for the 17th time in 2021, will meet its visitors as a larger event than last years. Sustainable Hunting and Animal Welfare, chosen as the theme of this year; It emerges as a subject that the UAE always cares about. The UAE has taken great steps to prevent animal trafficking or illegal hunting and to protect the environment.

The exhibition will host the sectors such as 11 different types of arts and crafts, horseback riding, falconry hunting, hunting equipment, hunting weapons, hunting tourism and safari, outdoor equipment and equipment, promotion and protection of cultural heritage, sports fishing and marine sports, media, veterinary and pharmaceutical products and services.

It will bring together hunters, hawk breeders, horse enthusiasts, artists, cultural heritage enthusiasts and animal lovers, business professionals and media members under one roof with its activities within ADIHEX, which is expected to be a great success this year with more participants and visitors from previous years.
Exhibition Name:


International Hunting& Equestrian Exhibition

Exhibition Date:


27 September - 03 October 2021

City - Country:


Abu Dhabi - U.A.E.

Venue:


Organizer:


Emirates Falconers' Club

Edition:


17

Web Site:
http://www.adihex.com